ONLINE COURSE COMING SOON!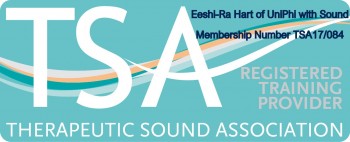 Learn mastery skills and innovative techniques that not only give you even better results for your clients, yet also empower you to give yourself a higher level of care as a practitioner.   Offer even deeper, more transformational and beneficial sessions to maximise the healing experience for your clients have have them coming back for more and telling their friends about you too!
Learn how to become a master transmitter of healing intention and energy flow through heightened body awareness and increased sensitivity in this 1 day/7 hour mastery tuning fork practitioner online course intensive.
"A very informative course, and she was very knowledgeable and helpful with all the students.
It was a practical hands-on way of learning, and fun too. I learnt so much and
have taken this knowledge forward with me, and I use my tuning forks for myself and my clients.
They all love them and how it makes them feel.
I would train with Eeshi-Ra again, and recommend her workshops and training"
– Sally – Zobet/Solfeggio tuning forks practitioner course (UK)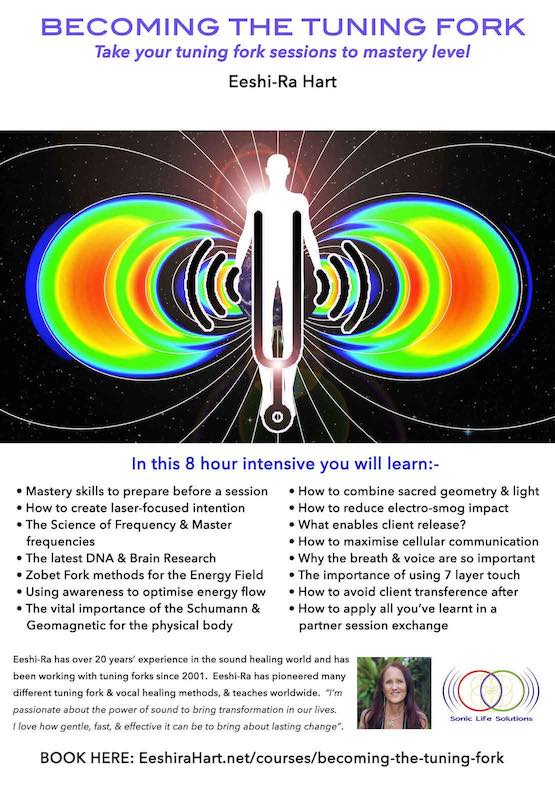 On this course you will learn:-

Mastery skills to prepare before a session
How to create laser-focused intention to maximise client healing
The science of frequency and master frequencies
The latest DNA & Brain Research
Zobet Fork methods to rebalance the Energy Field
Using awareness to optimise energy flow
The vital importance of the Schumann AND the Geomagnetic for earthing the body naturally & why you need both to maximise your health
How to combine sacred geometry and light
How to reduce EMF radiation impact
What enables client release?
How to maximise cellular communication
Why the breath and voice are so important
The importance of using an ancient form of touch
How to reduce any potential client disturbance during a session
How to avoid client transference
How to clear, ground, energise and reset before or after a session
"I can highly recommend Eeshi-Ra's courses,
they are packed full of content and passion for her work"
– Jenny – Zobet/Solfeggio tuning forks practitioner course (UK)
The course includes:-
Full training manual
3 pre-session MP3 audios to clear, ground and energise before or after a session
BONUS FREE 111Hz International Sound Summit Slideshow Presentation MP4 Video (£20 VALUE)
BONUS FREE Sonic Sanctum 20 minute self care and space clearing tuning fork sound healing audio (£15 VALUE) and
BONUS FREE Earthing 20 minute tuning fork sound healing audio to ground before or after treatment and to reset the body's natural connection to the Earth after using technology (£15 VALUE) – TOTAL PRACTITIONER FREEBIES £50 VALUE!!!)
Certificate of Attendance
Special practitioner discounts on sound healing audios and DVD's/video downloads to keep yourself clear, energised, and tuned in!
EESHI-RA HART (previously Ashera) (originally from the UK) is a sound healing practitioner, international speaker, professional singer & workshop facilitator.  Having trained in many different healing modalities since 1991 (massage, aromatherapy, breathwork, ceremonial dance, planetary lightworker, reflexology, aromatherapy, etc), she finally found her calling in 2001. She received the answer to a year long question asked of the Universe, if there was a sound or a series of sounds that can be given to the human body to help humanity get more in tune.  Through divine synchronicity, she was introduced to the sound healing frequencies of the Zobet, where the solfeggio are sourced from.  These frequencies embody the codes of nature, speaking directly to our brain, and the codes in our bones, & DNA offering us many benefits.  They are major keys for humanity during this potent time of planetary evolution.  Eeshi-Ra is passionate about offering a safe, healing space in which to explore our spontaneous expression and the natural wisdom of the body, combined with the healing power of the voice, sacred sound and many other tools to help us tune in more deeply with ourselves, the Earth and the Divine.  When we are more in tune, we can access the truth of who we are, and so fulfill the awakening reality of one global family and so bring Heaven on Earth.
Hear students of mine share their experience
"I can highly recommend Eeshi-Ra's courses, they are packed full of content and passion for her work"
– Jenny (Zobet Tuning Forks Practitioner Course)