ONLINE COURSE COMING SOON!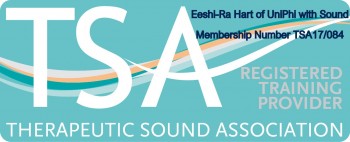 Offer even deeper, more transformational and beneficial sessions to maximise their healing experience for your clients to have them coming back for more and telling their friends about you too!
Learn innovative techniques and mastery skills that not only give you even better results for your clients, yet also empower you to give yourself a higher level of care as a practitioner.   Learn how to become a master transmitter of healing intention and energy flow through heightened body awareness and increased sensitivity in this 1 day intensive.  Venue details will be emailed to you upon registration.
"A very informative course, and she was very knowledgeable and helpful with all the students.
It was a practical hands-on way of learning, and fun too. I learnt so much and
have taken this knowledge forward with me, and I use my tuning forks for myself and my clients.
They all love them and how it makes them feel.
I would train with Eeshi-Ra again, and recommend her workshops and training"
– Sally (Zobet Tuning Forks Practitioner Course)
The course includes:-
Full training manual
3 pre-session audios (MP3's)
Certificate of Attendance
Special practitioner discounts on sound healing audios and DVD's/video downloads to keep yourself clear, energised, and tuned in!
What to bring:
A session table to give a partner exchange
Vegan/vegetarian food to share for a light lunch
At least 2 litres of spring water; and
Wear loose comfortable clothing
INVESTMENT:
Venue details will be emailed to you upon registration.
BOOK NOW!
Please click on flyer below to reserve your place.
Space is limited so please book early to avoid disappointment.
Also please email me Eeshi-Ra direct putting "Becoming the Tuning Fork" in the subject line, saying what name (state in full) you would like on your certificate.  Please message me here.
EESHI-RA HART (previously Ashera) (originally from the UK) is a sound healing practitioner, international speaker, professional singer & workshop facilitator.  Having trained in many different healing modalities since 1991 (massage, aromatherapy, breathwork, ceremonial dance, planetary lightworker, reflexology, aromatherapy, etc), she finally found her calling in 2001. She received the answer to a year long question asked of the Universe, if there was a sound or a series of sounds that can be given to the human body to help humanity get more in tune.  Through divine synchronicity, she was introduced to the sound healing frequencies of the Zobet, where the solfeggio are sourced from.  These frequencies embody the codes of nature, speaking directly to our brain, and the codes in our bones, & DNA offering us many benefits.  They are major keys for humanity during this potent time of planetary evolution.  Eeshi-Ra is passionate about offering a safe, healing space in which to explore our spontaneous expression and the natural wisdom of the body, combined with the healing power of the voice, sacred sound and many other tools to help us tune in more deeply with ourselves, the Earth and the Divine.  When we are more in tune, we can access the truth of who we are, and so fulfill the reality of one global family and heaven on earth. To find out more about Eeshi-Ra's other courses, sessions, audios, DVD's, etc, please go to www.eeshirahart.net.
Hear students of mine share their experience
"I can highly recommend Eeshi-Ra's courses, they are packed full of content and passion for her work"
– Jenny (Zobet Tuning Forks Practitioner Course)