In 2011, the solfeggio sound journey Sonic Enchantment
was co-founded by Eeshi-Ra Hart (formerly Ashera) & Fabio Garces
and since that time Eeshi-Ra has travelled the globe
sharing the frequencies of the Zobet (solfeggio)
in the USA, Australia and Bali!
Sonic Enchantment is regularly doing sound journeys in the
UK
and for all other sound journeys with Eeshi-Ra it now has a new name
The Frequency Shift!
(Available as a group journey or personal session of 90 minutes)
The Zobet (where the solfeggio sound healing frequencies are sourced from) are based on the divine pattern of the Universe,  which can help rebalance the mind, body & spirit benefiting the body's energy field, bones, and DNA and help tune us in with nature and the shift currently occurring on the planet.
Join us on this healing journey and be surrounded with divinely-tuned nature's very own solfeggio crystal bowls, tubular bells, ethereal chimes, special alchemically-created tuning forks, merged with the sounds of the planets, outer space, nature, master frequency gong, divine planetary gongs, shamanic drums & rattles, temple bells and Tibetan tingshas, voices and percussion in a sacred space to calm, nurture and re-energise,
We will dive into the ocean, to journey underwater with dolphins, whales and then up into the cosmos with planetary & space and then bring you gently back to earth with sounds of the rainforest, exotic birds, and more!
These group experiences are called sound journeys or "Sound baths" because you are completely surrounded/bathed in sound, while remaining fully clothed, laying on the floor.
These instruments create a unique blend of vibration and sound, capable of creating transformation on all levels — physical, mental, emotional, and spiritual. These sound journeys will work with the ancient sacred geometry of the Flower of Life as a potent tool to enable you to release old patterns, create new ones and "shed" energetic debris. One of the main master frequencies of the solfeggio/Zobet is played in many forms as this tunes you into the solar energy of your divine self and is also a great endorphin-releaser and can help the brain rebalance, uplift our mood, and enable our body to more deeply unify with everything around it!
What some recent sound journeyers had to say:-
"I lay with my head towards the centre of the space. The welcome in the room was such that, without knowing anybody, I was able to feel I could relax. 
The whole journey of the evening was so much that I cannot write it here, but the overall safety and love given by the musicians was so solid that all of my personal experiences were held and enabled.
Dreams and expansions of my heart, my hands, my head. There is a part of me which knows another place, another world. A full world. Of abundant love, life, peace and light. I went there during the evening, I felt so at home there, and wondered at how I could forget that this is where I belong. 
The long lasting effects of the evening are inspiring too, not just a quick high, I have felt a flow and groundedness and continue to spend time in the heart space that was opened". – Bex B. – Musician
"What a beautiful experience…Eeshi-Ra manifested as a (singing) majestic bird of paradise (in my inner vision)…and my awakening felt euphoric, still feel the light energy buzzing around me, as if tinkling in my aura…. 
Thanks to all the beautiful souls who created the frequencies x" – Lucy Anderson – Artist Manager, Z-Star & SlowTrainSoul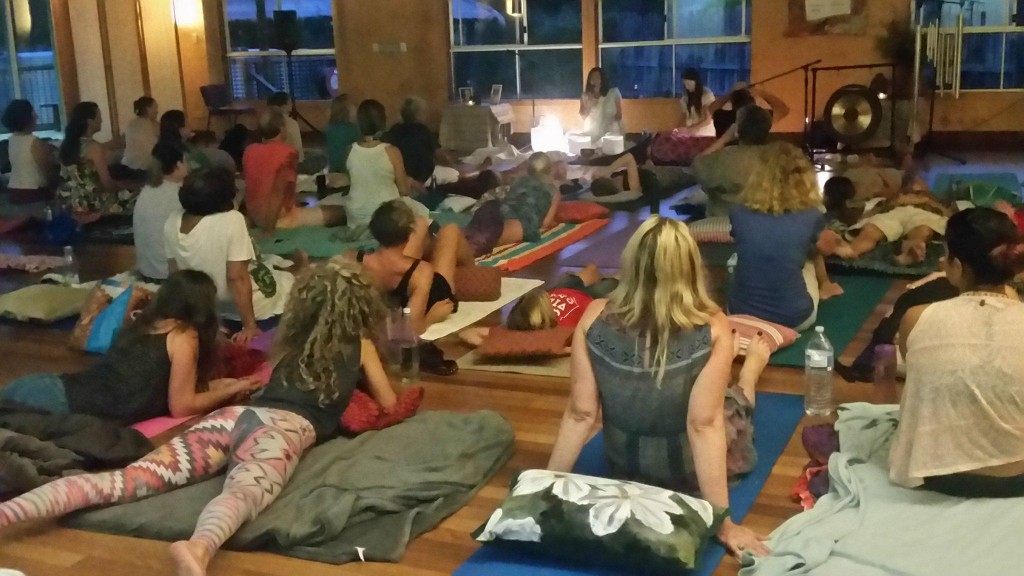 "This one and a half hour journey was performed by Eeshi-Ra, Fabio and Karen and consisted of sublime sounds of dolphins, planets, the sea, crystal bowls, gongs, chimes and tuning forks. We were all lying down in a circle and taken on this shamanic journey, we were energetically stroked with leaves and re-tuned with the tuning forks, the experience was literally out of this world!" – Leon Deith, Owner of Yoga Ananda Centre, Reigate
"It's the first time I've experienced sound healing and I really enjoyed it 🙂 I felt my consciousness shift during the healing and felt deeply relaxed afterwards. Thanks for a great night!" – Becky P.
"Absolutely fantastic, beautiful and serene sounds bathed me in glorious softness" – Claudia
"Incredible – feeling refreshed and revitalised… and thirsty! Thank you". – Nick H.
"Wow, Amazing – I feel like I travelled to the core of the earth and back, incredible experience, thanks so much, I feel humbled and honoured x " – Zoe B.
"What an evening.. feel totally blessed to have experienced this sound healing last night, ……..  Thanks guys for creating and holding such a beautiful space. Very proud of what you have achieved xxxx big big thanks and love" – Sarah T.
"Thank you for an amazing experience!" – Elina P.
"Thank you so much, truly blessed" – Kam P.
"I didn't think I could travel around the world in the space of 5 minutes, it is possible! and journey through my childhood AND also plunge into the depths of the ocean and dance in waterfalls………woohoooooo" – Sarah M.
 "WOW!!! Was amazing! So pleased I dashed from Stratford and made it in there last minute!! Out of this world! THANK YOU! – Jonathan L.
"Wonderful, deep, healing, journeying, an experience to recommend, thankyou! – Kim
Have you already been to a sound journey and would you like to have the frequencies from the sound journey with you to tune in daily for meditation or your spiritual practice?  Well now you can!  The Unity Codes is a unique tuning fork audio recorded with high quality microphones and with the crystal clear purity of individually recorded tuning forks and this is available in different lengths combined with calming ocean waves combined.  Available in either 20 minute, 40 minute or 1 hour lengths.  20 minute is great for a quick tune in, 40 minutes if you've got more time and 1 hour for a truly deep dive.  Great for supporting sessions.  Just ensure you and your client drink at least one glass of water before and after listening to support any rebalancing effects.
During these sound journeys, each participant will be bathed with sonic & harmonic waves ("healing" vibrations) that will evoke natural healing of mind, body and spirit. Stress melts away, while the brain moves into Alpha and Theta states, down regulating the nervous system to lower blood pressure, slow the heart rate, relieve pain, and more!
Please come early to reserve your spot and locate yourself closer to the instruments if you'd like a deep dive!  Kindly bring something to lie on (a yoga mat etc), pillows/cushion and/or a blanket (or all of these) for comfort. Also bring a good size glass bottle of natural spring water to drink before and after as you may well get thirsty!!  There will be a guided relaxation meditation at the beginning and a grounding and integrating meditation at the end of the sound healing journey.
We very much look forward to welcoming you there!