Hear what Paul has to say about Eeshi-Ra's solfeggio sound healing audio The Unity Codes
& why he's put aside his 20 year collection of meditation audio to use just this one!
Eeshi-Ra has a wide variety of solfeggio sound healing audios (click here), guided audios here, and here, solfeggio sound healing DVD's/Video downloads (click here), radio interviews (click here), press articles (click here) & more.
Simply click on the navigation tabs or on the words above.  Follow me on Instagram here.
Keep up to date with the latest developments in the realm of solfeggio, earthing & other precise sound healing frequencies and all Eeshi-Ra's projects by joining her newsletter below.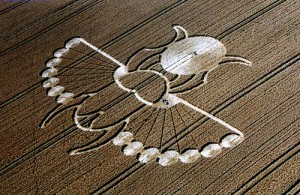 A crop circle that appeared in
East Field, Wiltshire, UK – 21 August 2005