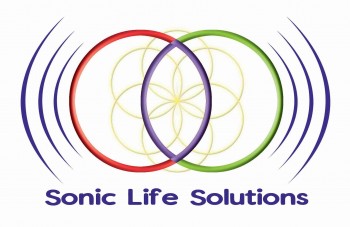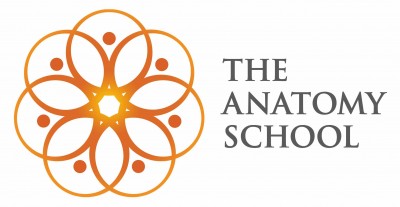 Are you a bodyworker, breathworker, meditation teacher, Reiki practitioner,
or sound healing practitioner interested in learning 22 new sound healing protocols
combining tuning forks with your sessions?
or maybe you'd like to just focus on our
top 3 most popular modules treating Stress, Trauma and Pain?
Join Eeshira Hart & Rachel Ellery in this FREE Webinar
available to watch below.
Want to learn by module?  Go here to get Cellular Sonics Tuning Forks Fundamentals
and for Module 1: Stress go here, Module 2: Pain go here, and Module 3: Trauma go here
What's in store for you when you sign up?
Find out NOW & SIGN UP HERE
or here if you'd like to get the course by itself and get the forks later.
CELLULAR SONICS
Are you an Osteopath, Physiotherapist, Chiropractor, Acupuncturist or any kind of Bodyworker,
who's interested in incorporating the potency of sound healing frequencies into your treatments?
Here's an exciting opportunity for you to join us for this unique online sound healing course.
Learn new protocols to compliment your profession to assist you in getting the best results for your patients.
It is recommended that you have a good understanding of Anatomy & Physiology to complete this course.
The Anatomy School taught by Rachel offers a 20 hour fun online education (Yoga Alliance Accredited)
to get a fantastic understanding of the magic that lays beneath the skin!
Once you have signed up you will receive a fabulous 20% discount on her anatomy course
OR do you suffer from bad Insomnia?
and would love to enjoy a deep, restful sleep?
Check out our DEEP SLEEP course & forks here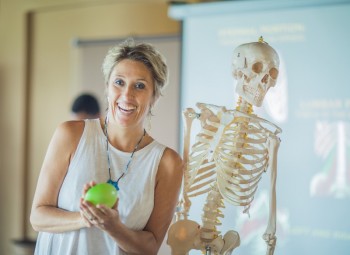 This online sound healing & bodywork
course has been lovingly co-created by
Eeshi-Ra Hart, sound healing practitioner
& Founder of Sonic Life Solutions
with Rachel Ellery, Osteopath and
Founder of The Anatomy School.
ONLINE COURSE

OR learn one or more
of the 3 main modules
Module 1: Stress
Module 2: Pain
Module 3: Trauma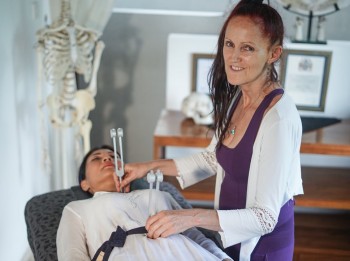 Check out our week of Facebook Lives via Zoom below.
DAY 1
Stress, Anxiety & Insomnia
DAY 4

Trauma – Mental, Emotional, & Physical
DAY 2
Pain and Muscle Tension
DAY 3

Inflammation/Wound Healing
Check out our Instagram chats calling Chiropractors,
all kinds of Bodyworkers/Reiki practitioners, Physiotherapists and Acupuncturists!
Would you like to offer even better healing outcomes for your patients?
Topics to be covered include:-
Why use Sound in your treatment sessions?
Addressing the Mindset of yourself as the practitioner and the client to optimise healing outcomes.
Tuning Forks:- What are they? The difference between weighted and unweighted tuning forks, Lower and Higher harmonic tuning forks, The speed of sound and bone conduction, Sound at a cellular level, Difference & Summation Tones, and an ancient form of conscious therapeutic touch.  How to strike a tuning fork.  Choosing the best location.  How to creating an energetic circuit through the body.  Auditory stimulation.  Use on the body.  Use in the aura/energy field. Pivoting and Modulation. Using forks on energetic/meridian points.  Working with acupuncture needles.  Tuning fork accessories: leg activator, rubber spheres, special custom-designed Cellular Sonics black linen padded practitioner forks pouch and Cellular Sonics table covers.
The Importance of the Breath:- (includes 2 BONUS FREE Breathing videos from The Anatomy School – Part 1: The Breath and Part 2: The Diaphragm)
The Frequencies:- Their medical application, scientific research, benefits, additional non-therapeutic benefits and therapeutic application.
Patient Intake and Care:- Patient Consent.  Case history.  Contra-Indications & Issues.  Tell them what to expect.  Care during a session e.g. energy shifts, burping, nausea/headaches, keeping your patient warm, & turning the patient over.  EMF Radiation awareness, Music and Hydration.
Therapeutic Application for Specific Issues including:- Initially calming the patient first, treating the 21st Century anxious/busy mind patient,  calming children/babies prior to treatment.  Treating fractures/bone repair, contusion, sprains & strains, pain (headaches, TMJ/toothpain, acute, chronic & degenerative pain), and inflammation.  Trauma including heart trauma, emotional trauma e.g. heartache, concussion/head trauma, whiplash, & car/bike accidents.  Treating neurological dysfunctions, insomnia, and working with post-surgery and pregnant clients
Use of Sound Healing for grounding, integration and completion of treatment
PEMF: NASA technology to maximise the healing outcomes of your patients!
Essential Oils to bring even more benefit to patients through the potency of aromatherapy!
Other recommended modalities
Frequency Research Glossary – With scientific research papers to educate yourself further into the benefits of sound healing
Other Resources
"The combination of these two modalities provides opportunity for quick
and seemingly effortless shifts to occur on all levels of the body"
– Erin & Caroline S. (USA)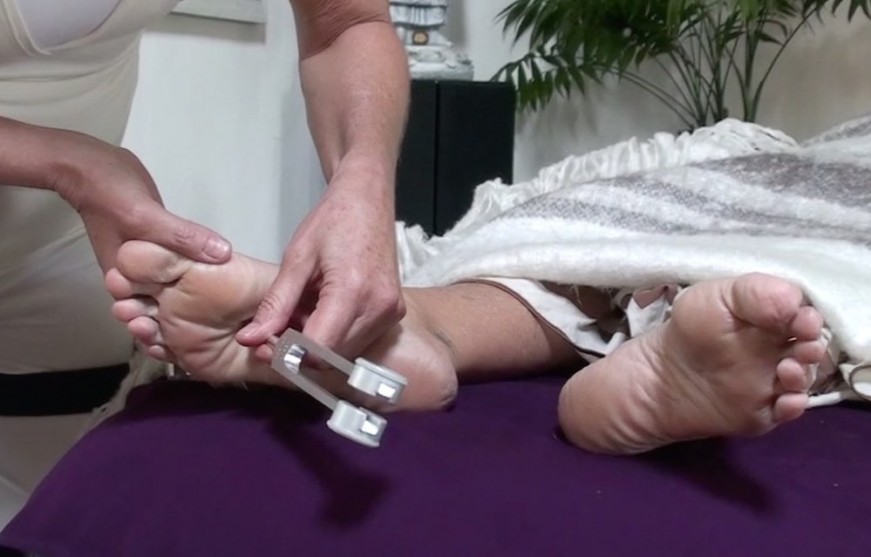 "The tuning fork helped me in multiple different ways and a large part was due to the skill, intuition and sensitivity of Rachel who could apply it in the appropriate strength and place at the appropriate time. I was in a huge amount of pain due to sustaining burns on a large surface of my body. The application of the tuning fork helped considerably to reduce my physical discomfort as it could be placed on unburnt areas of my body yet the vibrations travelled to the areas which could not be physically touched. It also had an incredibly calming affect on my nervous system and helped me through times of enormous fear and anxiety. It allowed me to enter into a quiet and meditative state too. Due to the severity of the incident, my memories are not totally clear and it is still very emotive and difficult to recall. However, I would highly recommend the use of these forks by a skilled and sensitive practitioner such as my dear friend Rachel Ellery"
"Hugest thanks Eeshi-Ra for the amazing sound therapy.  I was made a new man and using the energy field imaging equipment, 
the change was one of the most significant I have witnessed in 15 years" (from reviewing the effectiveness of over 450 modalities)
"Rachel used the 111Hz tuning fork on me at the end of a session and it was like someone unplugged me: instant relaxation of all remaining tension within me. I've tried it all over the body but on the top of my head, temples, centre of my forehead, and sternum all have slightly different effects, but seem to work out all the kinks in both body and mind. I use it most days and that's from a skeptic."
"I just bought this tuning fork from Eeshi-Ra.  Been going to the chiropractor for two months
for shoulder, neck and back pain.  Little improvement.  However the tuning fork stopped mine
and my daughter's pain in just two days.  Two days!  True story". 
"I have been a patient of Rachel's for 6 years where I first went to her with severe acute lower back bulged disk issues.  I found Rachel's intuition and therapy methods were truly transformational and had me healed and walking extremely quickly.  Her use of sound therapy dramatically alleviated my acute lower back spine pain as it created a space that allowed my entire body to drop into a deep sense of relaxation and thus allowed the body to heal naturally.  This work serious wonders on my entire body and after each session, I was fully renewed with a deep sense of peace, relaxation and confidence in my body's ability to heal from such acute issues.  No doubt, Rachel's ability to use sound in therapy has completely transformed my body and mind".
"I used the 111Hz tuning fork as Eeshi-Ra advised before bed and did a Theta meditation and I was gone. 
I slept through 7 hours without waking up which has not happened in 3 months.  I also missed the alarm.  :-). Incredible!"
"Thank you so much Eeshi-Ra,,…. I am feeling so good after our session, most of the pain in my body has lifted.
Thank you again…. such a relief to be experiencing such reduction in pain levels x" 
"My husband, (who had a shocking diagnosis of 4th stage metastatic prostatic cancer in the bones on Aug. 2, 2019), uses the fork twice daily on hip joints, spine, sacrum, sternum, and other place the scans have shown the presence of cancer.  He loves how it feels, very calming, and believes it is helping him as he is barely in any pain".
Hear Eeshi-Ra and Rachel share about some wonderful patient successes with tuning forks!
A sample video from the Cellular Sonics course to give you more of a peek into what's in store!!
SIGN UP HERE or here if you'd like to get the course by itself and get the forks later.
Want to learn by module?  Go here to get Cellular Sonics Tuning Forks Fundamentals
and for Module 1: Stress go here, Module 2: Pain go here, and Module 3: Trauma go here
LEARNING OUTCOMES
Include an ancient healing modality into your treatment repertoire
Bridge the gap between structural and energetic treatment
Encourage energetic release to support the patient in their healing process
Use sound healing to benefit healing at a structural and cellular level
Explore acupuncture points for specific healing outcomes
Use Grounding protocols for integration and completion of treatment
Add sound healing as a new modality to your healing skills to maximise your patient healing outcomes
The Cellular Sonics course includes:-
105 page Cellular Sonics Tuning Forks Practitioner manual;
34 training videos showing 22 different protocols (full list @ 5. above);
A set of 6 weighted Cellular Sonics practitioner sound healing tuning forks (Weighted tuning forks, Precision-tuned to 0.000Hz accuracy, Top practitioner quality with Frosted protective coating for lifetime use/humid climates);
A special 6 slot Cellular Sonics padded black linen practitioner tuning fork pouch with Cellular Sonics logo to protect your forks with two velcro straps (£24 VALUE);
30 hours to put towards your CPD/CE/CPE points (Continuing Professional Development) upon completion

PRACTITIONER FREEBIES



BONUS FREE 2 x "Anatomy of the Breath" MP4 Videos) (£85 VALUE!)
BONUS FREE 111Hz International Sound Summit Slideshow Presentation MP4 Video (£20 VALUE)
BONUS FREE Sonic Sanctum 20 minute self care and space clearing tuning fork sound healing audio (£15 VALUE)
BONUS FREE Earthing 20 minute tuning fork sound healing audio to ground before or after treatment and to reset the body's natural connection to the Earth after using technology (£15 VALUE)
BONUS FREE Tuning Fork Research PDF on Treating Inflammation.   (TOTAL FREE £135 VALUE!!!)
Summary of ALL Treatment Protocols for Clinic Use (25 pages) to print out and laminate;
Affiliate Program – Encourage clients to use forks for ongoing self-care & earn commission from every sale.  More here.
Special practitioner discounts for other sound healing products, additional tuning forks, etc; and
Certificate of Attendance upon completion
"Sound will be the medicine of the Future" – Psychic Edgar Cayce . . .
and "we do believe the Future is already HERE!"
YOUR INVESTMENT
£472.99-503.99 – CELLULAR SONICS TUNING FORKS (set of 6)
£265 – PRACTITIONER ONLINE COURSE
————————-
£737.99-768.99 – TOTAL
SAVE £135 with your practitioner FREEBIES
SIGN UP HERE or here if you'd like to get the course by itself and get the forks later
Want to learn by module?  Go here to get Cellular Sonics Tuning Forks Fundamentals
and for Module 1 go here, Module 2: Pain go here, and Module 3: Trauma go here
or HERE for the DEEP SLEEP course & Forks, or just scroll down for all options
We very much look forward to sharing our passion for an exciting new alternative approach to naturally and even more effectively treat patients & create even better healing outcomes.  This innovative modality makes for happier and healthier clients, and as good news travels fast, lots of new clients will be just around the corner!
Thanks so much for your interest.
Eeshi-Ra & Rachel
Co-Founders of Cellular Sonics
"I discovered how the therapies complemented each other, so I used them together
in treatments to assist in body healing and repair".
– Katy Sammell – Cranio-Sacral Practitioner (USA)
Transforming at a Structural & Cellular Level