This is a deeply relaxing & transformational sound journey combined with a breath session.
Deep sonic sound journey
Explore a powerful shamanic breath/Biodynamic Trauma Release technique to heal, re-align and restore your spirit
Unlocking your full spiritual potential to take you to the next level
Bringing more light into your body and energy field raise your vibration
Powerful sound initiations to restore your original soul blueprint
Eeshi-Ra lovingly invites you to come and activate!
Benefits of a Sonic Breath Activation session may include:-
A deeper and more authentic loving connection with yourself and others

A stronger sense of purpose and knowing

The ability to recognise your triggers of flight and fight or freeze, and how to use your breath to respond rather than react

The release of past traumas and emotions, so you can free up more life force energy, creating ease and flow in your health, relationships and life

Deepen your connection to your body, accessing more in-tuition (the teacher within) and body sensitivity and wisdom

Vastly improve the quality and vibrance of your breathing

Shift unhealthy, unconscious breathing patterns

Replace unhelpful coping mechanisms with positive, life affirming breath

Transform your fears so you can step more into your power

Release the past so you free up more energy and can embody more light and love in every cell of your body!

Open your heart and tune in ever more deeply with your divine loving self and connection to Source!

Deepen your connection to your body, accessing more in-tuition (the teacher within) and body sensitivity and wisdom


Ascend in loving conscious awareness, bringing heaven to Earth
This activation is all about authenticity.  Are you ready to drop old ways of being or the masks that you might have been holding onto and bask in the glory of your truly authentic self?
To start, we will share with a partner or with Eeshi-Ra and choose the main limiting belief(s) that we're ready to transform, so we have a deep focused healing intention to re-wire our subconscious for the breath session.
We will create sacred space together calling in our guides, angels, animal guides, teachers and other healing energies to create a safe container in which to journey.
During the Sonic Breath Activation, we will journey deeply with the breath, in a high vibrational space with sonic ascension codes (tuning forks, chimes & blissful sound healing music). To integrate this attunement, we will have a sharing circle at the end to help us ground and complete
WHY BREATHE?
Breath is the first independent act we make and the last one we receive. Most of us only take a quarter of our lung's capacity in any one breath. As with yoga, it is essential to develop our breath. What we find in breath sessions, is how we breath, is how we live.  Let's cultivate a rich, deep and full experience of our breath and see where that leads us in life!  When we also focus on a healing intention, we can maximise the healing opportunity for ourselves.
WHAT TO BRING/HOW TO PREPARE: This can either be done via Skype or in person.  If this is a class, please bring a yoga mat if you have one, a cushion for under your knees, a blanket, an eye covering, some drinking water and please wear loose comfy clothing.  If you're wanting a Skype session, you will also need to purchase The Unity Codes 1 hour sound healing audio to support you in breathing deeply and creating a sacred, sonic healing space.
Spaces are limited, so booking in advance is advised to avoid disappointment.  After your personal session, you will also be sent other tools to support your ongoing transformation.  To book your session, please sign up below.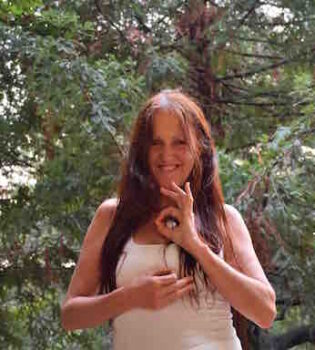 Eeshi-Ra Hart (formerly Ashera) is a passionate advocate of healing with simple, loving and easy ways to rebalance the body back to its natural, healthy state. She is a sound healing practitioner, author, international speaker and workshop facilitator and has taught extensively at festivals and independently in Europe, the States, Australia and Bali. She trained at the Globe Sound & Consciousness Institute in San Francisco where she now teaches the online students as an expert in the solfeggio and was the original international co-ordinator of the global peace event Earthdance. She has trained in rebirthing and Biodynamic Trauma Release breathwork, Hyperton-X Trauma Release bodywork and has studied extensively with many experts in the sound healing world (John Beaulieu (father of tuning fork therapy), Jonathan Goldman, Tom Kenyon (Hathor transmissions), Karina Schelde (voice healing), Randy Masters (sacred sound, geometry, maths etc), & many others. She is qualified with a certificate in Psycho Acoustics and Tuning Forks and healing with the voice.  Eeshi-Ra has worked since 2001 with the sound healing ascension codes of the solfeggio and the temple keys of the Flower of Life & violet flame that heal all fear-based consciousness back to its original divine blueprint. These keys are here to attune us more deeply with our connection to our bodies, Divine Self, Source, the Earth and the Universe and ultimately to activate our DNA and our rainbow light bodies, so ascension is fulfilled on this planet.
If you have questions, please email via the website here