LEADING SOUND JOURNEYS
Online Course coming mid 2022!
Sign up to the newsletter here to get an update
of when this course will be ready to go
I've been leading sound journeys since 2011 starting in the UK co-founding Sonic Enchantment with Fabio Garces and then changed the name to The Frequency Shift and traveled to the USA, Australia and now Bali sharing the profound benefits of the Zobet (solfeggio) sound healing frequencies which are potent frequency shifters during this time of the Great Awakening.
What makes this course different from many others you might do?
I have been working with sound healing since 2001, and given that I have a passion for supporting my clients and sound journeyers giving them the deepest experience possible, I prefer to fine tune their healing experience with the power of holistic sonic science using primarily scientifically-researched sound frequencies, so this course is a deep dive into bringing those benefits to your clients and sound journeyers too!  I'm all about guiding sound healing practitioners to get really informed about the exact Hz of their instruments, what mental, emotional, physical & spiritual benefits can be offered, and how to deeply embody the transmission of the sound healing, so it's possible to facilitate the best healing outcome(s) so what is offered is truly sound healing and way beyond just a nice relaxing time!  Clients and sound journeyers who have had a profound transformational experience will always be coming back for MORE!
What's in store during this course?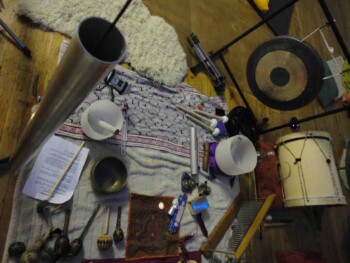 You'll learn:
How the intended healing outcome will guide everything
Music Therapy or Sound Healing?
Which instruments/sounds to choose?

Electronic or natural?
Crystal bowls & other crystal instruments
Tuning forks
Drums
Chimes
Gongs
Temple Bells
Shakers
The Voice
Mantra
Shamanic Use
The Didgeridoo
Other sacred sounds

Active Listening vs. Passive Listening
Meet them, Build a Bridge & Allow Space
Creating Sacred Space
Offering yourself as a channel
How to give a guided relaxation meditation to start
How to merge Love with the Voice & Other Instruments/Sounds
Directions for Playing Bowls Above & Below the Equator
How to be fully Present and Embody your Intention
Prayers, Affirmations & Telepathy
Explain to your journeyers what to expect
The importance of drinking water
Energy Shifts & Opening the Body's Channels
Breathing
Grounding to complete
What to wear and preparation before e.g. how to clear, energise & ground,
Marketing: Room size, flyer & pricing
What a journey might sound and look like – Includes a demo of all instruments
Storing and Clearing instruments
Contra-Indications – When to avoid using Sound Healing