IMPORTANT: This webpage is currently being upgraded so this part of the Shop is closed right now.  Please check back soon, or email us here so you can be emailed when this page is active again!  Thanks so much for your patience.
The Unity Codes with added 3D Ambisonic Headphone Nature Mix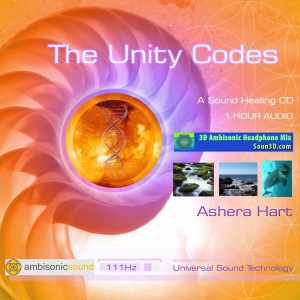 Nature as you've never heard it before on headphones or through speakers!  Feel as if the magic of the forest, the ocean and dolphins are right there with you!  Three different time formats available.  These 3D Ambisonic mixes are specially-created 'binaural' audio files.  The technique used approximates the immersive sound-field experience of Ambisonic surround sound.  Cupped headphones recommended for the best experience.  This combines The Unity Codes tuning forks with these specially-enhanced nature sounds.  The benefit is that the ear and brain can resolve sound in a much more organic way.  This has been shown to relax the nervous system and dis-armour the mind.  In addition, the spatially-dynamic experience of holophonic sound stimulates our active and passive listening in a unique way, allowing the information in the audio to imprint deeper into the mind, heart, body and consciousness.
Samples of the audio are below.
Sample 1 from the beginning 3D_Ambisonic_prv1.mp3
Sample 2 towards the end 3D_Ambisonic_prv2.mp3
For more info on my collaboration with Elan Rosenman of Audio Elixir, please click here or check out a recent video interview with him here.