Solfeggio sound healing can help us get more in tune on every level – mind, body & spirit.  It's a great tool at this time and a very useful antidote for the busy, hectic world we live in today, which is so focused on technology (computers, mobiles, wifi, etc), which often creates more unnecessary stress and health challenges.  If used regularly, the rebalancing benefits of the Zobet (solfeggio sound healing) frequencies can include:-
Stress relief (Also see Stress Relief here).
Deep relaxation so can be helpful for insomnia
Improved mental focus, productivity & clarity
Theta brainwave state great for problem-solving, super-learning, personal transformation & memory
Uplifts your mood (stimulates endorphin release) so can be helpful for depression, addiction, feeling happier, more loving & empowered (as used in many medical therapies today)
Increases empathy for self & others
Brain rebalancing so logic is balanced with intuition (as shown by university study)
Boosts energy levels & sex drive
Helps increase your sensitivity to body sensation & can turn you on! (see Self Pleasuring sound healing audio)
Helps you get more in tune with your body i.e. what you body needs, e.g. healthier diet, deeper breathing etc)
Helps centre and align you to create more peace & calm
Can activate our DNA as the frequencies embody the maths of the Phi ratio which our DNA is encoded with.
Spiritually deepens your connection with Self & Source
NEW & IMPROVED: Now with higher-quality microphones, 111Hz tuning forks and a louder volume after being newly re-mastered.  The Unity Codes features highest quality Zobet (solfeggio sound healing) tuning forks & gentle ocean waves to offer you probably one of the most innovative audios available in the sound healing world today!  It's available in three different formats to suit your lifestyle.  Either as a:-
20 minute sound healing audio – perfect for a quick tune-in with grounding frequencies at the end and leave enough time for lunch, so you can get back into your day focused, energised, uplifted and ready to go!; or
40 minute sound healing audio – perfect for a longer relaxation/meditation or great for getting off to sleep; or
1 hour sound healing audio – great for an even deeper journey, relaxation, meditation or great for getting off to sleep with
To listen click below (best on headphones) and to purchase your personal copy by instant download NOW, please scroll down.
Want to go deeper still?  The 3D ambisonic versions are the best!  Click here to find out more.
Guided Sound Healing Audio
Also, in collaboration with top experts in the fields of breathing therapy, NLP, hypnotherapy, hypnobirthing, sacred sexuality etc Ashera offers the frequencies combined with a guided practice that can help you get more in tune.
Titles include (click on title for video & sample audio):- Breathing, Energetic Massage, Fertility, Pregnancy, Self-Pleasuring or Stress Relief.
Listen to what Paul says about my sound healing audio.  He's put aside his 20 year collection of meditation audio to listen to The Unity Codes! Why? because he's getting great results!
The frequencies are based on the laws of nature and therefore send a rebalancing message to literally reboot our system to help us feel more in tune.  To find out more about these frequencies, please click here.
Find out what a group of women in the US said after listening to just 20 minutes of this cutting-edge audio (The Unity Codes), by watching the video below.
See the energy field images below to see how they can benefit you after just 1 hour.
For more amazing pictures with audio & video interviews with Eeshi-Ra and Dr John Rogerson, please go here.
These can be used by any age group for the benefits shown above, so whether you're  a busy working professional needing to de-stress, or a spiritual seeker needing to more deeply meditate, or an artistic person who wants to get creative, or someone who wants to get more in tune with their body and themselves or a teenager needing some quality enhanced super-learning time or perhaps you're a lady who's pregnant and you need to take some quality time for you, there is something for everyone!
To listen see below and to purchase scroll down.
For maximum results, please listen with headphones, and via speakers is fine too but not as potent.
Great as a space clearer to start your day on a beautifully high vibe!
Best used once or twice a day for 2-3 weeks to maximise the benefits & thereafter as required. Daily is recommended.
N.B. It is important to listen to the full length of whichever audio you have so that you receive the full spectrum of these healing frequencies in one sitting  (not 6 or 9 but all of them!).  Please read the guidance notes on the inner sleeve & text file that comes with the download before use & drink at least one glass of water before and after listening.These audios are for your own personal use only.  If you'd like to use them in a group/workshop situation (please ask me first for permission).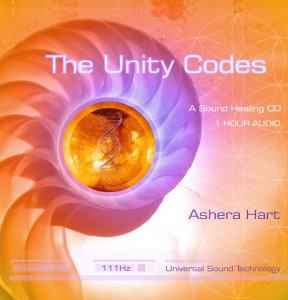 These downloads are now available in either highest quality .aiff format (recommended) or high quality (320 kbps) MP3 format.  Enjoy!
Terms and Conditions: You may listen to this recording and/or download it into any media you wish so long as it is for your own personal use only. This recording is protected under International Copyright and may not be used for any other purpose without written permission of the creator. Please click on About/Terms and Conditions for full info and for important advice when listening to any of these sound technology products.
© Copyright 2018 Eeshi-Ra Hart (formerly Ashera Hart) & UniPhi with Sound- All Rights Reserved
Testimonials include:-
"I am glad I followed the instructions about drinking water, as I felt really thirsty both before and after..…. My intuition tells me that this sound healing has been a big part and acceleration of clearing of old wounds and patterns. From the very first session & the first sound of the sea & the tuning forks, I felt resonant with the sound frequencies – I am very glad to have this extra tool"– Robert H., UK
"The experience that I had with the CD was profound. I felt tingling sensations throughout my body. I would feel relaxed and connected to my body. Listening to the CD for a week straight I noticed my eating habits had changed, my body was asking for more fruits and vegetables, I was drinking more water. I think what worked is listening to the CD for a continuous length of time, like a week or more, because it would build on itself from the days before"– Soleiman B. – Student, USA
"It sounds GREAT. I love it and thanks so much for producing it! The combination of ocean waves and tuning fork sounds is exactly what I needed. The ocean sounds quiet my mind and the tuning fork vibrations create a focal point for my mind, body and spirit. Whatever it is that's happening it's very healing. I have to work hard at staying positive and feeling good about my life. That's why I'm so pleased with your recording. I start and end each day with it". – Kay A. – Estate Agent, USA
"When I was first fortunate enough to witness Ashera the impact of her work was instantaneous. Witnessing her channelled voice sent a healing resonance that cut through the blockages in my body, going straight to the core of my being. I have since been using the Zobet Codes and feel that it has been instrumental in shifting me into a frequency of harmony, focus and joy." – Adam Shaw,  Healthy Heart Academy/Walk Innovation www.walkinnovation.com and www.AdamShaw.co
"When Ashera began to apply the use of the frequencies during a group attunement, it was as if my BEing was already familiar with communication through the frequencies. I instantly began to feel myself smiling beyond the smile on my face. There was a sense of 'knowing' beyond my current intellectual understanding. My energy body enlivened by the sounds to the point of overwhelm, followed by the overpouring of tears cascading in ecstatic bliss. Words cannot encapsulate the experience. If you are feeling drawn to work with Ashera and the frequencies I would recommend that you explore that calling (smile). – Kyla Williams, Innerlight Pregnancy, UK www.innerlightpregnancy.com
The Unity Codes with 3D Ambisonic Headphone Nature Mix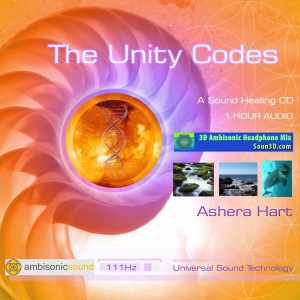 Nature as you've never heard it before on headphones!  Feel as if the magic of the forest, the ocean and dolphins are right with you!  Three different time formats available.  These 3D Ambisonic mixes are specially-created 'binaural' audio files.  The technique used approximates the immersive sound-field experience of Ambisonic surround sound.  Cupped headphones recommended for the best experience.  This combines The Unity Codes tuning forks with these specially-enhanced nature sounds.  The benefit is that the ear and brain can resolve sound in a much more organic way.  This has been shown to relax the nervous system and dis-armour the mind.  In addition, the spatially-dynamic experience of holophonic sound stimulates our active and passive listening in a unique way, allowing the information in the audio to imprint deeper into the mind, heart, body and consciousness.
Samples of the audio are below.
Sample 1 from the beginning 3D_Ambisonic_prv1.mp3
Sample 2 towards the end 3D_Ambisonic_prv2.mp3
For more info on my collaboration with Elan Rosenman of Audio Elixir, please click here
Eeshi-Ra and UniPhi with Sound are proud to announce the release of other solfeggio sound healing audio to help you reach your peak potential!
What if you could take the harmonising effects of the frequencies and feel like you've also just relaxed your head and shoulders or your whole body? (Energetic Massage) or helped you deepen your breathing (Breathing) or maybe assist in you conceiving a child (Fertility) or having an awesome pregnancy and birth (Pregnancy) or to learn how to enjoy more sacred sexual pleasure (Self Pleasuring) or the sound healing frequencies by themselves with gentle ocean waves – The Unity Codes etc.  Well now you can! Eeshi-Ra (formerly Ashera) and UniPhi with Sound are proud to announce the release of other solfeggio sound healing audio to help you reach your peak potential!  Just click on the titles to find out more.