Healing Partnerships, UniPhi & VJ Coresnfx


are proud to present
The Tone Zone Meditations
The Love Activator
Join with us for Earthdance on Saturday 24 September 2011 for the Prayer for Peace at 12 MIDNIGHT (British Summer Time) at this amazing global peace event which is now in its 14th year!!! and join with over 200 + locations in over 50 countries!  To check the time of the global link up in your location, click here or for the Earthdance website click here or to find out more about the Earthdance Peace Watch widget please click here.  If you also want to watch live streaming of the event please click here.  If however you're a promoter or VJ for Earthdance, click here for further info.
Every year since Earthdance was created in 1997 there has been a theme and since 2004, Earthdance has chosen a Global Focus to further unite events around the world.  By putting our attention on a positive and healing theme as a collective global family, we have an even deeper impact on this planet that we hold so dear.
Earthdance is an event, when individuals, private gatherings and public events across the globe celebrate and activate peace through creative expression, activism and community-building – all joining in the Prayer for Peace at the same powerful moment!
2011's focus is CELEBRATING THE FORESTS
In alignment with the United Nations theme for 2011 – International Year of Forests – this year, we will focus our intentions on "Celebrating the Forests" and how we can protect them for generations to come. All Earthdance 2011 events are encouraged to focus their efforts on causes that work to Honor our Mother Gaia, the Plant Kingdom and our lifegiving Forests, while finding new ways to live sustainably on our planet.
* Forests cover 31% of total land area.
* The livelihoods of 1.6 billion people depend on forests.
* Forests provide a home to more than 300 million people worldwide.
* The total global trade in forest products was valued at around $379 billion in 2005.
* Forests are home to 80% of terrestrial biodiversity.
Click HERE for more information on the UN International Year on Forests.
Impacting local change on a global scale, each official Earthdance event donates at least 50% of its profit to a local charity. Last year, the Earthdance Global Festival for Peace benefited over 75 international charities for peace, sustainability, and/or social justice. As Earthdance events continue to grow each year, more and more local organizations are gaining traction and exposure in their communities.
The Earthdance Network and Earthdance TV will present a range of exclusive content related to the theme during the week, including Expressions of Peace – photos, videos and music tracks – submitted by the Earthdance community. Many Earthdance promoters will also be holding events on this day.
This year Ashera Hart of UniPhi (UK) (previously called SRI) in collaboration with one of her US partners, Judy Cole of Healing Partnerships and Denny Ellis aka VJ Coresnfx (UK) are once again offering a video of pulsing sacred geometry and the visual this year is called the Love Activator which is to be played at the time of the Prayer for Peace by all VJ's (video jockeys i.e. the guy/girl who is in charge of the projected visuals) which is the global meditation that unites all dancefloors across the world.  This will help us tune into our hearts and also strengthen the energy of the global meditation.
The A.U. visual that is at the heart of the Tone Zone Meditation, takes the natural mathematics of the Earth, humans, water, and the entire Universe and converts these number codes into sound. Specific sonic combinations of these mathematics are put through a scientific instrument called an oscilloscope and these sacred sound codes form a moving visual so you can see and experience this natural sacred geometry as shown through light.  The 396Hz and 528Hz Love Vibration are also featured in this video.
Watching this visual has the ability to help you remember you are a part of nature and are divine and ultimately connected to everything. It's like the red pill that Neo took! It also strengthens the potential of the Prayer for Peace when it is played at the time of the global meditation so that whatever pure intention we focus on, we truly manifest in ever more amazing ways!
Our love is the power to transform our world!
Let's make it happen and play this video to amplify our love and intention
when we unite ALL locations across the world
There is also a longer 12 minute meditation version available to download below featuring beautiful colourful peace-full imagery at the bargain price of only £1.08 (about $1.66).  Please note all profits raised from this video will go to benefit Earthdance International and the sound healing projects of UniPhi and Healing Partnerships.
To view the short version of this visual online (same length as the Prayer for Peace – about 5 minutes long), you can view it online for free on Youtube and the video is below.  To purchase the long version with beautiful visuals (12 minutes), please scroll down the page and you will find it in 3 different formats.  (iPod/iPhone (M4V), PC (AVI) and Mac (MOV).
Please join in and PARTICIPATE on Saturday, 24 September 2011 all around the world or watch online wherever you are.
as an individual – attend an event if you can, and register to be on the map as a participant in the Prayer for Peace
as a house party host to gather friends in celebration and activation of peace
See the LOCATIONS page for the growing list of 2011 participants and events.
United as One we dance!!!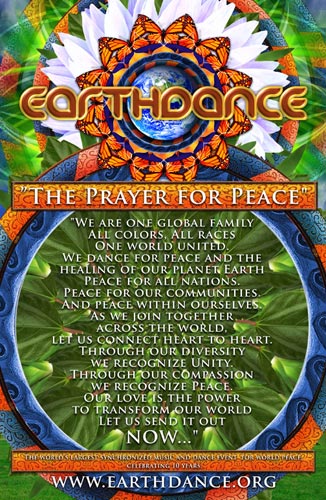 [wp_eStore_fancy1 id=8] [wp_eStore_fancy1 id=9] [wp_eStore_fancy1 id=10] [wp_eStore_cart_when_not_empty]
Guidelines
Please note this audio visual meditation could potentially have a powerful impact on the viewer and the best way to prepare before viewing it is:
– think peace-full and loving thoughts
– drink a glass of water whilst watching this visual to assist your body in tuning in with the energy
– if you feel the need to talk to someone about your experience, then please feel free to contact Judy Cole of Healing Partnerships (healingpartnerships @ yahoo.com) of Ashera Hart of UniPhi (info @ asherahart.net)
IMPORTANT: DISCLAIMER – PLEASE READ
Please note for those sensitive to strobe light effects, it is best they do not watch the video. Filmed light has been used for years – thousands of people have claimed benefits. However, if you are sensitive to light or have Photo-Sensitive Epilepsy, this video is not for you to see. It is possible for filmed light to cause seizures in individuals in the same way that oscillating lights or 'strobe' lights can. If you, or anyone else who shares your video are using a pacemaker, suffering cardiac arrhythmia or other heart disorders, on tranquilizers or psychotropic medicines, have epilepsy or visual photo-sensitivity, this visual should be avoided. However it should also be noted that no problems have yet been recorded. Please note that anyone watching this visual does so at their own discretion and choice.
Usage rights
This visual is copyrighted material and is only for exclusive use at the time of the Earthdance event on 24 September 2011 or for your own personal viewing as desired.
CREDITS INCLUDE:
Executive Producer
Ashera Hart
Conceptual Designers and Production
Ashera Hart Denny Ellis aka Vj Coresnfx
Visuals mixed and edited by
Denny Ellis aka Vj Coresnfx
A special thank you to
Earthdance Founder Chris Deckker
Earthdance Executive Director Abigail Lewis
Earthdance Network Director Michael Gosney
Original Idea
Farhoud Farhoumand
AUDIO CONTENT
Prayer for Peace – Earthdance
Words written by Leyolah Antara & Chris Deckker
Music by Alex Newman
The Unity Codes (previously called "The Da Vinci Code")
Music by Ashera Hart – www.asherahart.net
VISUAL CONTENT
VJ CORESNFX
www.coresnfx.com
A.U. VISUAL
Code deciphering, design and implementation
Judy Lynne Cole The Ringing of the Rivers Project
Production Consultant
Thomas Blaine Myers
Kymotropic audio and animations design
20to20soundesign Bob Phillips
Photography
Cathi Brockman      Judy Lynne Cole
Bob Phillips             Michael Yee
Waveform Identification
Patricia Hendricks      Dr. Mohsen Hourmanesh
Randy Masters            Drunvalo Melchizedek
Editing
Lori Boyd Cheryl Lakin
Jean Stanley
Equipment
Victoria Andrew        Arno Barthelmes
Robin Bork                Century Labs Repair & Calibration
Electrical Engineering
David "Tex" Houston
Multi-media Technology & Web Support
Randy Kimball
Sponsorship & Funding
Judy Lynne Cole and Thomas Blaine Myers
Healing Partnerships
www.healingpartnerships.com
Implementation
Thank you to all who seed the waters
with charged crystals, teach the codes to whales, dolphins & humans
& support the research & practice of peaceful endeavors.
A.U. – This is how love is supposed to be
ALL UNCONDITIONAL
********   ********   ********
Through the heart of the arts
"Our LOVE IS our power to transform our world!"
© Healing Partnerships, Ashera Hart (UniPhi) and VJ Coresnfx (2009) – All rights reserved