Saturday, 3rd September 2011
Haslemere Museum, 78 High Street, Haslemere, Surrey GU27 2LA
2-5pm Sound Heaing Workshop
7.30-9.30pm Sound Healing Concert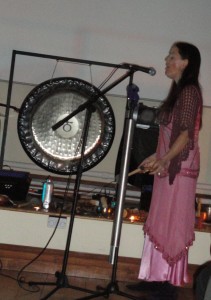 Come and journey with Tim Wheater and friends for an afternoon of sound healing workshops (2-5 pm), then afternoon garden break (5-7.30 pm), followed by a sound healing concert from 7.30-9.30 pm featuring the wonderful and exquisite sounds of the healing voice, planetary gongs, native flutes, Tibetan bowls, sacred solfeggio tuning forks, crystal bowls, chimes and specially-made copper pipe xylophone, percussion psaltery, sound chair and Da Vinci code chimes, and more.
Featured artists include: Karen Grace, Touch the Earth, Hummingbird, Lavia Kate Peters, Ashera Hart, Mike Fry, Philippa Anne Reed, Heather Golding and others.
Costs: Workshop £45, the concert £10 and if you'd like to attend both, £50
We look forward to seeing you there!
Sound Healing CD's (The Unity Codes 1 hr and double audio), In our Mother's Tongue, solfeggio essences, solfeggio tuning forks, "Activate your DNA" DVD & Tim's CD's and the other artists CD's will also be available for purchase throughout the event.
Please bring your own food if you would like to join us for a picnic outside between 5-7.30 pm and Waitrose is very close by
Booking in advance recommended
By post or on web or to buy CD's: www.timwheater.com
Cheques payable to Imagemaker, Tim Wheater, P O Box 66, Haslemere GU27 9ES
Further info email: tim@timwheater.com or messages 01428 656 007