MAKING THE SHIFT!
Solfeggio Sound Healing Workshop
2 day workshop, 10-5 pm
with introductory talk on Friday before 7.30-10 pm



(To book a workshop in your country, please email Ashera direct)
(Venue information will be emailed to you once you've booked)
 Intro talk starts 7.30 pm featuring a keynote slideshow with Q & A
Topics covered include:-
Where the number codes of the solfeggio (Zobet) come from
How they relate to the human body
Their spiritual significance
Their effect on the brain and our DNA; and
Why they are such amazing healing codes for humanity with the shift occurring on the planet
1/2 day workshop
Want to get out of your head and into your heart and body?
Want to move through your fears/negative imprints and bring your spirit fully into your body?
Want to create more bliss, peace and joy in your life?
Want to explore how your voice with sacred sound is such an amazing tool to heal?
Want to get more in tune with you?  Well now you can!!
Come and join us in this sacredly-held space and journey deeper into your being, beyond all fear and limitations and access your full spiritual potential with the sound healing frequencies of the solfeggio bringing those powerful healing codes into your body to work their magic?
For those who have studied with me before, there will only be a short introduction (1 hour) on the power of the frequencies and the remainder of the weekend will be group-focused and fully experiential using the voice and body movement.
Day 1
An introduction to the frequencies and why they are so important for the planet now!
The importance of using diet as a major key for shifting our vibration in order to be in tune with the shift currently occurring
Future self meditation/Power animal journey
Pineal activation
Breathing practice to open up the pranic field of the body
The importance of intention, sacred symbol, mantra and use of colour when using sound in the body
Transforming fear to love using the voice in the body (partner process)
Day 2
Sharing from previous day
Walking meditation (on earth if weather allows)
Dropping into centre – grounding meditation on the earth
Core separation point work in the afternoon (3 specific areas)
Group tuning fork attunement (90 minutes)
For some recent feedback on an introductory workshop, check out the video below.
[youtube]http://youtu.be/ZvwvjuiQ_Bo
I will be leading a deep journey into the various healing aspects of the solfeggio with the power of focused loving intention, visualisation, breathing, body movement, partner & group exercises, shamanic journeying, crystal bowl recordings, tuning forks and sound chimes.
Over the past few years I have been shown some key points of release and re-balancing in the body, particularly in relation to separation consciousness held in the chest, solar plexus area, jaw and navel.  We will be specifically working with these, our voices and the frequencies to come to a deeper place of embodiment and connection with the Divine.  If the weather is good on the second day, we will also do some work outside on the earth nearby.
Please bring a cushion, yoga mat to lie on, blanket, food for shared light lunch, natural spring water and a magical item for the altar e.g. a special crystal.
The whole weekend will conclude with a bliss-full sound healing journey with the special solfeggio (Zobet) tuning forks for all participants.  To hear what some ladies in the US had to say about just hearing a 20 minute version of these forks as featured in The Unity Codes see below.
[youtube]http://www.youtube.com/watch?v=WbIXWBCKv3o
Any questions please feel free to ask.
There will also be an opportunity to purchase The Unity Codes CD's (only downloads sold on the website), only a few with me).  Please email ahead to reserve yours
Please note space is limited so to secure your place please pay in full below.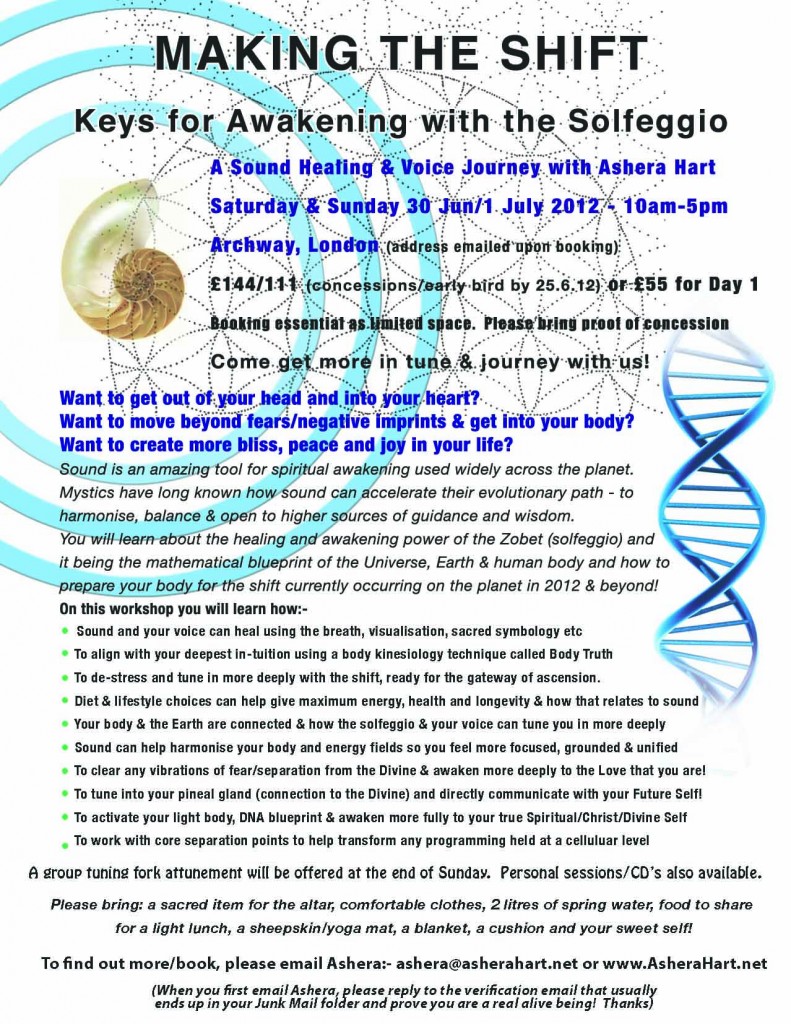 Special session discount for workshop participants
If you book for the workshop you will also receive your own personal copy of the double Unity Codes (1 hour version), with the most popular combination of a 1 hour massage followed by 1 hour tuning fork session (2 hour total – allow 2.5 hours and some quiet time after) or receive your own personal copy of a 20 minute version of The Unity Codes with a 1 hour tuning fork session.
If you book in a set of 5 x 1 hour sound healing sessions, you will receive luxury organic essential oils PLUS a special 20% discount PLUS a FREE 20 and 40 minute solfeggio sound healing download of The Unity Codes.
If you book 5 x 2.5 deep massage & sound sessions combined, you will also receive a special 25% discount, PLUS a FREE Solfeggio Sound Healing Guide ($15 value) PLUS a FREE  Double (20/40 min) solfeggio sound healing download of The Unity Codes ($45 value)
For a podcast, video interviews with Dr John Rogerson and more on tuning fork sessions, please click here.
Thanks so much for your interest.