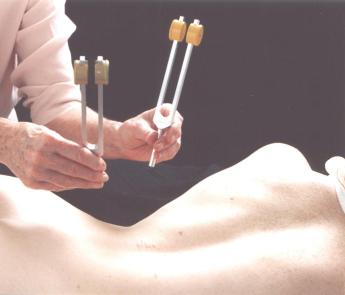 Clearing Congestion with Tuning Forks
for a client with Fibroids
Had another lovely testimonial from a happy client using tuning.  I love how effective they are at really shifting energy and pain, as I take the view that pain is just energy trying to move, and as long as you co-create with the client the best environment with open energy channels using the breath, visualisation and body relaxation, then the energy can move.  I don't believe there are any coincidences and when we finally feel more in tune, we can then receive the messages and gifts our body is offering us, showing us what we need to listen to or shift in our life.
She shared with me "I have fibroids in the uterus.  One of them is significantly larger at 7.7cm.  I started to feel a dull pain on the side of lower abdomen about a week before seeing Eeshi-Ra.  When I had the tuning fork session with her, we focused on these fibroids.  Not long after the session was over, the dull pain gradually disappeared, and I have been pain-free ever since.  My leg continued to have a buzzing vibration feeling for at least a couple of days.  Thank you to Eeshi-Ra for her healing hands, kind heart and setting a clear intention.  I shall continue to work with the same tuning fork frequencies myself and the Earthing frequencies as I also invested in the Earthing practitioner set and the online Earthing tuning forks course with certification.  Much gratitude Eeshi-Ra" – Victoria L. (USA)