GLOBE SOUND HEALING CONFERENCE
Kaiser Center Tower, Oakland, California
26-29 September 2014
The Holy Grail and Sound Keynote presentation
The amazing connection of the Zobet (Solfeggio) to the Holy Grail & Lemuria
Monday 29 September- 2.30-5.30 pm, Room 250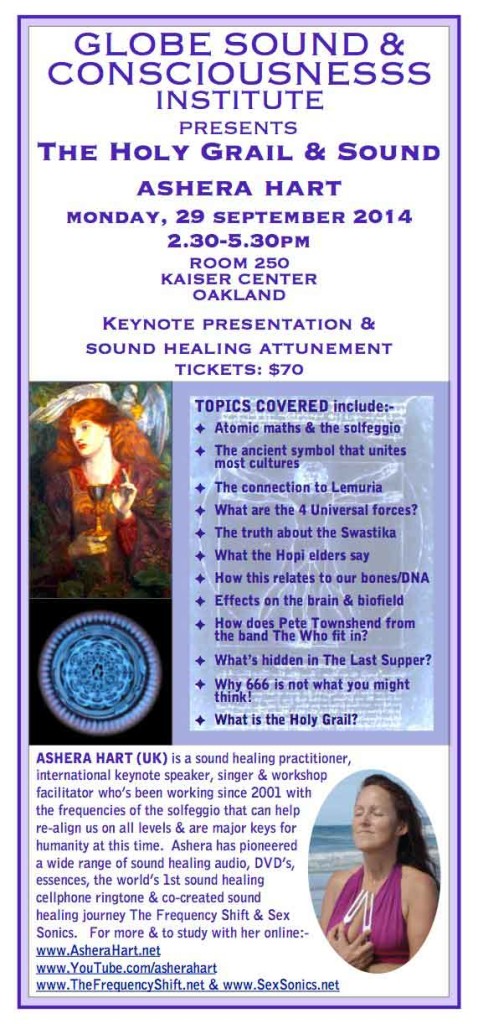 Whilst I was researching for my fourth and latest DVD, through an amazing synchronicity I was guided to a book in a Glastonbury secondhand bookstore that took me on an exciting journey of finding how these number codes are connected to the ancient civilisation of Lemuria (or "Mu") that existed before Atlantis over 70,000 years ago. As I was researching, I also made a truly stunning discovery of how the number codes of the Zobet (that the solfeggio are sourced from) are also related to the Holy Grail! Other topics covered include:-
Atomic maths and the solfeggio.
The ancient symbol found in most cultures on the planet
What are the 4 Universal forces?
The truth about the Swastika
What the Hopi say about the end of times
How this relates to our bones/DNA
Effects on the brain and human biofield
What's hidden in the Last Supper painting?
Why 666 is not what you might think!
What's all this got to do with Pete Townshend from The Who?
What is The Holy Grail?
Ashera Hart has over 15 years' experience in the sound healing world and is a sound healing practitioner, international keynote speaker, singer and workshop facilitator.  In 2001 she received the answer to a year-long question to the Universe asking if there was a sound or a series of sounds that can be given to the body to help humanity get more in tune, and shortly after that, she met her mentor Randy Masters and has been working since 2001 with the frequencies of the Zobet (that the solfeggio are sourced from).Ashera was the International Co-Ordinator for Earthdance (1998-2001) & the original voice on the Earthdance Prayer for Peace and has been committed to creating peace for many years through planetary lightwork, ceremony and global meditation.In 2006, Ashera made an important discovery of the link to these number codes and the mathematics of the Universe as outlined in the book "The Blueprint of Creation" (Jason O'Hara) and the maths are further explained in "God's Secret Formula" by German physicist Dr Peter Plichta (inventor of silicon rocket fuel)..  Based on the mathematical design of the Universe, nature and the human body (bones/DNA) & as used in the medical world today, she believes them to be important keys to help humanity rebalance & get more in tune with our bodies, nature, the divine and the shift currently occurring on the planet.  The frequencies can help de-stress, balance both sides of the brain, take us into a Theta brainwave state which is great for deep relaxation/meditation, personal transformation boosting brain power, in-tuition, immunity, memory etc.
Ashera has pioneered the creation of sound healing audio collaborating with other personal transformation experts; co-founded the sound healing journey Sonic Enchantment (now known as The Frequency Shift); and pioneered vocal healing workshop & celluluar healing protocol Body Sonics.  Titles of audios include The Unity Codes, Stress Relief, Breathing, Energetic Massage, Fertility, Pregnancy, Self Pleasuring etc.  She has also co-founded Sex Sonics with Eve Glimma (Australia) (Somatic Sexologist, Sex Educator & Pleasure Coach) which is an evolutionary way of healing sexual trauma and awakening the ecstatic response.