EARTHDANCE, 2018 – 22 September 2018
Prayer for Peace Global Link Up Time
00.00 UTC or 1 am Sunday 23 September 2014 (UK)
Healing Partnerships, UniPhi with Sound & VJ Coresnfx
are proud to present
The Love Activator
For Earthdance Promoters
Please project LIVE at the same time as the Prayer for Peace.
Here are the download links for the AU (All Unconditional) Love Visual to amplify the power of the Prayer for Peace for your Earthdance event.
The AU visual by itself in .MP4 720×480 zip format (1.45GB file download), to download, please click here, or to stream, watch it here.
The AU visual by itself in AVI Inde0 5.10 640×480 format (239.5MB file download) to download, please click here; or
The Love Activator in .MP4 640×480 zip format – AU visual plus positive image and colour visuals (774.7MB file download) to download click here or to stream watch it here.
Join Eeshi-Ra and all across the world for Earthdance on Saturday 22 September 2018 for the Prayer for Peace on Sunday morning at 1 am (UK time, British Summer Time) at this amazing global peace event which is now in its 22nd year!!! and join with over 24 + locations worldwide!  To check the time of the global link up in your location, click here or for the Earthdance website click here.   The synchronized peace meditation takes place along with with the United Nations' International Day of Peace.
Eeshi-Ra will be joining the London event and speaking the Prayer for Peace Live at 1 am.  To get tickets for the London event, please go here.
Earthdance is an event, when individuals, private gatherings and public events across the globe celebrate and activate peace through creative expression, activism and community-building – all joining in the Prayer for Peace at the same powerful moment!
Impacting local change on a global scale, each official Earthdance event donates at least 50% of its profit to a local charity. As Earthdance events continue to grow each year, more and more local organizations are gaining traction and exposure in their communities.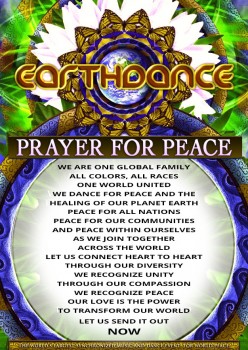 A bit of history and her-story in the making!
Eeshi-Ra Hart was the original voice of the Prayer for Peace, recording the Prayer in Glastonbury where the Earthdance office was located for a few years after leaving London and before settling in the States.  The track used for the Earthdance Prayer for Peace was taken from the Star Children song "Sacred Reunion" from the Sacred Sites CD released in 1997 through Return to the Source.  The original version can be listened to here.  Eeshi-Ra was part of a ceremonial ritual dance group called Sushumna that was led by founder Leyolah Antara who now teaches Kundalini Dance worldwide here.  The dancers would use their dance to transform and uplift the energy of all party events to ensure all partygoers had a positive and fun experience.  The prayer was written mainly by Leyolah together with some inspirations from Chris Deckker.  Glastonbury is believed in many spiritual circles to be the Heart Chakra for the planet, so where better to record a Prayer for Peace!  The recording of the original track weaved in the sounds of the running water of the White Spring and the Chalice Well that are symbolic of the God and the Goddess and therefore a living, breathing sound of unity hence the name "Sacred Reunion".  In the first few years, it had the sounds of Tibetan chanting monks to raise awareness for the plight of Tibet under the control of China and then Earthdance widened its support for other charities globally.
Eeshi-Ra (previously known as Ashera) was also the first International Co-ordinator for Earthdance and worked together with Chris Deckker in those formative years from London, to Glastonbury to San Francisco, till 2001 when she got on her path with sound healing.  Since 2001, she has been working with the sound healing frequencies of the Zobet which help us tune more deeply with the codes of nature and the Universe, creating more balance, harmony and unity within.  In 2002, Eeshi-Ra met Judy Lynne Cole of Healing Partnerships as they work with the Zobet frequencies and Judy has widened her research and work to include other codes through the power of lasers and other medium.
AU Visual/Love Activator
This year as with so many other years since 2007, Eeshi-Ra Hart of UniPhi (UK) in collaboration with one of her US partners, Judy Cole of Healing Partnerships and Denny Ellis aka VJ Coresnfx (UK) are once again offering a video of pulsing sacred geometry and the visual is to be played at the time of the Prayer for Peace by all VJ's (video jockeys i.e. the guy/girl who is in charge of the projected visuals) which is the global meditation that unites all dancefloors across the world.  This will help us tune into our hearts and also strengthen the energy of the global meditation wherever it is played and projected.
We welcome all Earthdance promoters to play the Love Activator/AU visual at the same time as the Prayer for Peace to amplify the powers of the prayer.
If you're an Earthdance promoter, please access your copy of the Earthdance visual from the Earthdance Co-Ordinator, Andy Fusso direct.
The A.U. visual that is at the heart of the Tone Zone Meditation, takes the natural mathematics of the Earth, humans, water, and the entire Universe and converts these number codes into sound. Specific sonic combinations of these mathematics are put through a scientific instrument called an oscilloscope and these sacred sound codes form a moving visual so you can see and experience this natural moving sacred geometry as shown through light.  The 396Hz and 528Hz Love Vibration are also featured in this video.
Watching this visual has the ability to help you remember you are a part of nature and are a divine spiritual being, and ultimately connected to everything. It's like the red pill that Neo took! It also strengthens the potential of the Prayer for Peace when it is played at the time of the global meditation so that whatever pure intention we focus on, we truly manifest in ever more amazing ways!
Our love is the power to transform our world!
Let's make it happen and play this video to amplify our love and intention
when we unite ALL locations across the world
Please join in and PARTICIPATE on Saturday, 22 September 2018 all around the world or watch online wherever you are.
See the global link up map here for the growing list of 2014 participants and events.
United as One we Dance!!!
Guidelines
Please note this audio visual meditation could potentially have a powerful impact on the viewer.  Avoid looking at it if you suffer from epilepsy or any kind of seizures and the best way to prepare before viewing it is:
– think peace-full and loving thoughts
– drink a glass of water whilst watching this visual to assist your body in tuning in with the energy
– if you feel the need to talk to someone about your experience, then please feel free to contact Judy Cole of Healing Partnerships  (Click here for her website) (sonformula @ hotmail.com) of Eeshi-Ra Hart of UniPhi with Sound (info @ eeshirahart.net)
IMPORTANT: DISCLAIMER – PLEASE READ
Please note for those sensitive to strobe light effects, it is best they do not watch the video. Please put up signs or inform your partygoers at the entrance of this.  Filmed light has been used for years – thousands of people have claimed benefits. However, if you are sensitive to light or have Photo-Sensitive Epilepsy, this video is not for you to see. It is possible for filmed light to cause seizures in individuals in the same way that oscillating lights or 'strobe' lights can. If you, or anyone else who shares your video are using a pacemaker, suffering cardiac arrhythmia or other heart disorders, on tranquilizers or psychotropic medicines, have epilepsy or visual photo-sensitivity, this visual should be avoided. However it should also be noted that no problems have yet been recorded. Please note that anyone watching this visual does so at their own discretion and choice.
Usage rights
This visual is copyrighted material and is only for exclusive use at the time of the Earthdance event or for your own personal viewing as desired.
If you'd prefer to listen to the original Prayer for Peace with slightly different words, spoken by Eeshi-Ra Hart, then please click the YouTube video below:-
We are the Rainbow tribe
All colours, all races, United as One
We dance for Peace and the healing of our Mother Earth,
Peace for Tibet), Peace for all nations and peace within ourselves
As we gather now, let us join as One
All dance floors across the world
Brothers and Sisters United
Let us connect heart to heart
Awakening, Uniting, Breathing as One
Our love is the power to transform our world
Let us send it out NOW!
Here's me doing the Prayer Live at Waveform Festival in 2007.
CREDITS INCLUDE:
Executive Producer
Eeshi-Ra Hart
Conceptual Designers and Production
Eeshi-Ra Hart and Denny Ellis aka VJ Coresnfx
Visuals created, mixed and edited by
Denny Ellis aka VJ Coresnfx
A special thank you to
Earthdance Founder Chris Deckke
Earthdance Directors Reavis Daniel Moore, Michael Gosney and Andy Fusso
AUDIO CONTENT
Prayer for Peace – Earthdance
Words written by Leyolah Antara & Chris Deckker
Music by Alex Newman
The Unity Codes more info here
Sound Healing Music by Eeshi-Ra Hart – EeshiraHart.net
VISUAL CONTENT
VJ CORESNFX
www.coresnfx.com
A.U. VISUAL
Code deciphering, design and implementation
Judy Lynne Cole The Ringing of the Rivers Project
Production Consultant
Thomas Blaine Myers
Kymotropic audio and animations design
20to20soundesign Bob Phillips
Photography
Cathi Brockman      Judy Lynne Cole
Bob Phillips             Michael Yee
Waveform Identification
Patricia Hendricks      Dr. Mohsen Hourmanesh
Randy Masters            Drunvalo Melchizedek
Editing
Lori Boyd Cheryl Lakin
Jean Stanley
Equipment
Victoria Andrew        Arno Barthelmes
Robin Bork                Century Labs Repair & Calibration
Electrical Engineering
David "Tex" Houston
Multi-media Technology & Web Support
Randy Kimball
Sponsorship & Funding
Judy Lynne Cole and Thomas Blaine Myers
Healing Partnerships
www.healingpartnerships.info
Implementation
Thank you to all who seed the waters
with charged crystals, teach the codes to whales, dolphins & humans
& support the research & practice of peaceful endeavors.
A.U. – This is how love is supposed to be
ALL UNCONDITIONAL
********   ********   ********
Through the Heart of the Arts
"Our LOVE IS our power to transform our world!"
© Healing Partnerships, Eeshi-Ra Hart (UniPhi with Sound) and VJ Coresnfx (2007) – All rights reserved