Would you like to learn how to bring the power of sound healing
into your life to benefit you, your friends and family?
Come join this fun 14 hour introductory online sound healing course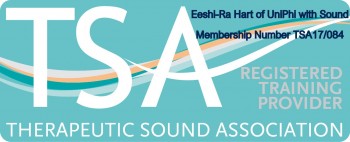 You will learn:
What sound healing is
What is Cymatics & how sound creates form?
What is Entrainment and how it can be used?
What is Resonance?
How Sound affects Water and Rice
Crystalline structures in the Human Body
The Speed of Sound and the fastest way of using it
The challenges of a modern day lifestyle
Where sound frequency is already used in the medical world today
How to create sacred space/a healing space beforehand
What sound healing instruments can be used
The importance of focused intention
When not to use sound healing
Where sound healing can be used
The many benefits of sound healing
Your student Bonuses!
PLUS 12 x 1 hour homework assignments
"I can highly recommend Eeshi-Ra's courses, they are packed full of content and passion for her work"
– Jenny, Zobet tuning forks practitioner
111Hz "It's really helped reduce my chronic back pain episodes.  I use it every day
as part of my self care now.  Thanks so much for introducing the 111Hz to me."
– Maria S. (Dance coach) (Japan)
Beginners welcome.  No previous experience necessary.  Learn from the comfort of your home with no need to pay for travel, accommodation & other expenses and review the content anytime you like!
Course includes:
1 hr 45 mins of slideshow presentations with Eeshi-Ra personally guiding you through
PLUS 12 x 1 hour homework assignments to bring the magic of sound healing even more into your world!
PLUS special discounts on website sound healing audios and DVD's/video downloads for your ongoing journey into the wonders of sound healing frequencies!
GET 15% off my Solfeggio/Zobet and Earthing Tuning Fork practitioner courses too! (save up to £75!)
Sign up as an Affiliate and EARN while you LEARN & receive up to 30% commission!  Sign up here.
COURSE PRICE: £29.99 (scroll down and click on the icon for Intro to Sound Healing, Courses.
"It's a very well descriptive course related to sound healing. Well researched and good inputs of information. I think if someone is interested to know the scientific aspect of Sound healing in order to be a well-versed healer. Good Vibes !!!"
"Wonderful what a beautiful introduction into this subject. So pleased with the interesting and simple outlines. Made so many notes and will be looking into more courses from this instructor. – In gratitude"
"Eeshi-Ra is truly a professional in the field of healing and sound.  She impressed me greatly not only on a professional level (teaching me more than I anticipated; and I love learning), but also as a compassionate, caring healing, teacher, and a very real person who loves what she does and does it well"
"I totally recommend Eeshi-Ra and her treatments are next level!!  She's amazing at working holistically with sound and frequencies and her treatments have a deep and long lasting effect.  She's also a great teacher and I was so inspired that I bought my own forks and am now learning how to use them.  It's been a great journey so far!"
"The workshops with Eeshi-Ra gave me a comprehensive knowledge of working with sound for healing both in theory and practice… Eeshi-Ra puts her heart and soul into her work.  She is also a mine of information on anything which supports our healing and spiritual evolution.  Thank you Eeshi-Ra"
"A very informative course, and she was very knowledgeable and helpful with all the students.  It was a practical hands-on way of learning and fun too.  I learnt so much…. I would train with Eeshi-Ra again and recommend her workshops and trainings"
Please note this is a class showing you how to use sound healing for personal use or for your friends and family only.  If you'd like to learn how to lead sound journeys, check out her new mastery level "Leading Sound Journeys" online course here.  Eeshi-Ra also has an Intro to Tuning Forks course here, and for the practitioner courses for Zobet 9 or 18 forks (working primarily through the energy field) – click here, and for her Earthing Tuning Forks course working primarily on the physical body to reset the body's connection with the Earth with just 5 weighted tuning forks, click here, for her Cellular Sonics course for physiotherapists, osteopaths, acupuncturists and other bodyworkers for physical healing, kindly go here, and for ALL her other courses, please go here.
N.B. – There are a few sound healing instruments available for purchase.  Solfeggio chimes here, tuning forks here, tongue drums coming soon! and if you're interested in the NEW 528Hz temple bell series, check out the video here, and please email Eeshi-Ra here.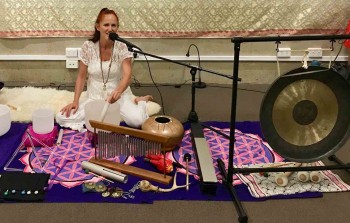 EESHI-RA HART (previously Ashera) (originally from the UK) is a sound healing practitioner, international speaker, professional singer & workshop facilitator.  Having trained in many different healing modalities since 1991 (massage, aromatherapy, breathwork, ceremonial dance, planetary lightworker, reflexology, aromatherapy, etc), she finally found her calling in 2001. She received the answer to a year long question asked of the Universe, if there was a sound or a series of sounds that can be given to the human body to help humanity get more in tune.  Through divine synchronicity, she was introduced to the sound healing frequencies of the Zobet, where the solfeggio are sourced from.  These frequencies embody the codes of nature, speaking directly to our brain, and the codes in our bones, & DNA offering us many benefits.  They are major keys for humanity during this potent time of planetary evolution.  Eeshi-Ra is passionate about offering a safe, healing space in which to explore our spontaneous expression and the natural wisdom of the body, combined with the healing power of the voice, sacred sound and many other tools to help us tune in more deeply with ourselves, the Earth and the Divine.  When we are more in tune, we can access the truth of who we are, remembering as we awaken that in truth we are one global family as we fully anchor Heaven on Earth.
I very much look forward to welcoming you!
Eeshi-Ra